FIBRENEW NEW ZEALAND FRANCHISING
Fibrenew, Experts in Leather, Plastic & Vinyl Repair have exceptional franchise business opportunities available across New Zealand! Since 1987, we have established ourselves as the leaders in the market across Canada, USA, Mexico and New Zealand. Now, we're ready to expand upon our team of existing New Zealand franchises and are seeking budding entrepreneurs who are serious about business ownership.
---
Diversified Service Business
There is leather, plastic and vinyl everywhere that becomes damaged through normal wear and tear. In homes, offices, vehicles, boats, airplanes, hospitals, gyms, restaurants, hotels and much more. With all these potential revenue streams and high demand for our services across so many markets, our company and franchisees have grown and thrived through every rise and fall of the economy. That really speaks to the fact that there is always a need for our services.

Aircraft
Ambulances
Auto Body Shops
Bars/Pubs
Boat Dealers
Cafés
Car Dealers
Car Hire Agencies
Chiropractors
Dentists
Farm Equipment
Fleet Vehicles
Furniture Stores
Government Offices
Gyms
Hair Salons
Hospitals
Hotels
Insurance Companies
Interior Designers
Limo Companies
Medical Clinics
Massage Therapists
Military Vehicles
Motorcycle Dealers
Moving Companies
Public Transportation
Restaurants
RV Dealers
Schools
Taxis
Theatres
Trucking Companies
Vet Clinics
Warranty Companies
…much, much more
---
Ranked a Top 50 Franchise by Franchise Business Review
Fibrenew was among 334 franchise brands, representing over 30,000 franchise owners, that participated in Franchise Business Review's research, which was conducted between May 2015 and November 2016. Fibrenew was grouped in the top 15% of these 334 brands.
The survey data showed:

83% are satisfied with Fibrenew's Core Values
80% feel connected to Fibrenew's Franchisee Community
82% satisfaction with Fibrenew's Ongoing Support
81% are happy with Fibrenew's Products & Services
81% enjoy the Fibrenew Team Culture
82% Trust Fibrenew as a franchisor
84% rate Fibrenew's Honesty and Ethics as high
84% Respect Everyone in the Fibrenew franchise system
83% believe that Fibrenew Cares About Their Success
83% feel that other franchise owners Support the Brand
84% have a High Level of Personal Enjoyment in operating their franchise
81% of Fibrenew franchisees Would Recommend the Business to Others
---
Growth & Stability
Since 1987, we have built and refined a robust business system. This includes the research and development of a proprietary product line, highly specialized techniques as well as rock-solid support, operations and marketing systems. The strength of our business model, the quality of our products and services and our enthusiasm for what we do all contribute to the success of more than 245 Fibrenew franchises around the world.

---
Saving Money, Time and Mother Earth
Fibrenew is a niche market business which offers consumers and businesses a 'green' alternative to the replacement of damaged leather, plastic and vinyl. Everyday, this saves hundreds of items from ending up in landfills.
Our repair process and techniques also saves our customers time and money. Restoration by Fibrenew is often times more economical than the cost of replacement and can be completed faster than the time it takes for replacement materials to be ordered or delivered. It's win-win.
---
Ideal Franchise Owner
You don't need prior experience to succeed with Fibrenew. If you enjoy working with your hands, can distinguish color adequately and are comfortable with relationship selling, you're half way there. We'll provide the rest through a thorough training program that includes hands-on experience with professional and experienced support staff.
Fibrenew franchisees come from all walks of life. The diversity of backgrounds and past careers is widely varied, including:
Accountant

Aircraft Mechanic

Business Analyst

Chemist

Civil Engineer

Company Executive

Electrical/Plumbing

Electronic Technician

Finance Manager

Golf Pro

Graphic Designer

Human Resources

I.T. Specialist

Industrial Scientist

Logistics

Manufacturing

Master Cabinet Maker

Mechanic

Mechanical Engineer

Meteorologist

Nursery Owner

Optometrist

Pilot

Printing Salesman

Retired Colonel USAF

Rocket Scientist

Sales Representative

School Teacher

Software Engineer

Telecommunications

Truck Driver

…many more
---
With Fibrenew, You Receive
High-demand, niche market business with multiple revenue streams
Low overhead operation with few or no employees to manage
Flexible lifestyle and work schedule – you set your own hours
Extensive at-home, in-class and in-the-field training spanning a total of 20 weeks
Exceptional support program covering all aspects of the business
Personalized website with web and social media marketing support
Professional print and email marketing support
Fully loaded iPad, including Fibrenew App and custom business tools
Proprietary product line, manufactured in-house with nearly 200 items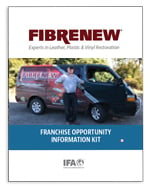 Thank you for your interest in Fibrenew. To download a Franchise Information Kit, complete and send the form below. You'll receive an email back with the PDF kit and further information.
If at any point you wish to speak with a member of our friendly and helpful franchise development team, we can be reached at: 03 3743 366
We look forward to providing you further information about the Fibrenew franchise opportunity.